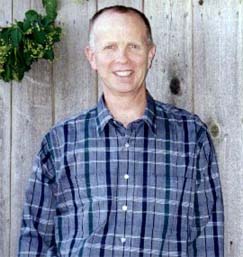 Ladies and gentlemen, Mr. Richard Hackley.
This one is a bittersweet one for me to repost. For those who weren't there for it, here's the backstory: in the early 2000s, a friend of mine heard Richard Hackley's song "God's Backhand" on a defunct site called Worst Of The Worst, who'd kinda done a hatchet job on Richard's music, but he thought it was brilliant, and so did I when I heard it. It was, of course, Christian music, but it was not ordinary Christian music by any means. Richard was a classically trained musician who fell in love with MIDI, and had some pop background as well, having grown up with his Beatles records, but a lot of what he did was purely him. There was and is this sense of wonder and whimsy to the music he made, some bombast that traced back to his classical roots, and, whether he always acknowledged it being there or not, a dry, but mischievous sense of humor to it. So, of course, I loved it, and as I played it for my circle of friends, they did, too. I'm pretty sure that, by way of the late Jim Dunlap, I even got Richard some of his only dance club play, at the Melody Bar in New Brunswick, NJ. I am reasonably sure he closed one of his sets there with "God's Backhand" in the last year that the joint was open.
Of course, we all wondered what kinda guy made these songs, as we were listening to them, and when I started doing interviews with musicians again, it took me a little while to get the nerve up to contact him about a possible interview, but I eventually did it. The interview was, of course, for My Big, Black Cock, so I was pretty sure I had one hell of an uphill battle selling him on it. In my initial contact, I was of course respectful, and made it clear that he'd be doing an interview with a profoundly different outlet than I think he'd ever imagined being in (though, by this point, Time Magazine had done a pretty hostile story on the artists featured at Worst Of The Worst and singled him out, so there may have been nowhere to go but up from the press…), but one where he already had a following among the regular readers, and one where both his music and his beliefs would be discussed seriously. (In hindsight, re-reading the interview, I wish my questions about his beliefs had been more nuanced and less like an angry teenager yelling some stuff at a priest, but you work with what you've got at the time.) Richard did some thinking, checked out both my record and the character reference I invited him to contact (a fairly high-up name at a pretty serious right-wing Christian think tank, who I'd dealt with as a publicist in the 1990s), and decided to go forward with the interview, which was well-received at the time, as these things went. People who read it told me that they appreciated that Richard was frank, thoughtful, and open in a venue that couldn't have been the most comfortable to walk into.
A funny thing happened from there. Richard and I stayed in touch pretty regularly, and became friends. Richard also got to know some of my friends, and became pretty good friends with them, too, collaborating with one of them on a web site for a number of years. Richard and I even ended up collaborating on a piece of music at one point. Sure, we didn't always agree on our beliefs, about the state of the world and so forth. There are things within the interview we did that should make that kind of clear, and things that, yes, I did and do find cringeworthy, but I feel that those things were largely the trappings of the belief system he fell into. In Richard's and my most contentious moments, he was still much kinder than the things you may find problematic as you read them below, enough to where our friendship endured despite those moments, whereas other friendships of mine have hit insurmountable roadblocks over less. Overall, my experience of Richard was that he was a solid, kind guy who did his best to try to understand the world around him, find his way in it, and say what he could about how he came to understand it. It should also be said that he loved his family and friends, especially his grandchildren, and that the sense of humor that came through in subtle ways in his music was not something I was imagining or projecting. We did have a few really good laughs over the years.
I never got to meet him in person, though I came very close once. I was in his hometown of Wichita, helping someone with an emergency cross-country move, and while he and I were supposed to grab a cup of coffee, time was at something of a premium (we had a few hours to load a truck, and had fallen behind), so I had to cancel in order to finish helping the person I'd come to help. When I told him what I had to do on the phone, he paused for a moment, then said "You're a good man." I still think about that a lot, and I try to be the person that he told me I was in that moment.
Richard Hackley passed away on October 6, 2014, after a lengthy battle with cancer. I miss him, and he's also missed by everyone in my circle of friends who got to know him. The world is a less interesting place without Richard, but it's ultimately better for having had him around. Below, and through his music, hopefully, if you didn't have the chance to while he was here, you can get some idea of who he was, and if you did get to know him, with any luck, this will help you remember him.